Bethany was given a really fun tea party book for Christmas this year. It has many different tea party themes, each complete with invitation ideas, recipes and games. She's been begging me to do the Princess Tea Party for a long time now. Well, this week she is starting a new preschool and several of her sweet friends are starting Kindergarten next week. So, we decided to have a "Back to School" Royal Tea Party so she could have fun with all of her friends before they are all separated for school. We changed it from a Princess Tea Party to a Royal Tea Party because she insisted on inviting her boy-friends, too. We had so much fun making the treats and hosting the party!
(Please pardon me if there are misspellings or sentences that don't make sense at all. I'm a little doped up right now on pain meds from my surgery.) :-)
Here are my girls waiting for the guests to arrive. Bethany was very concerned that everything was done in time for her to stand at the door and greet her guests. She's a born hostess!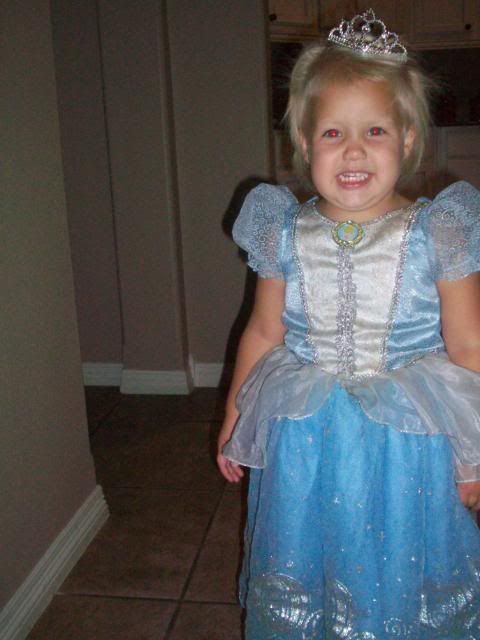 Yes, this is a fairy dress, not a princess dress. Bethany insisted on wearing it! She said she was a fairy princess. There was no changing her mind. I felt better when one of her friends arrived in her mermaid dress. Her mom had also tried to change her mind, but to no avail. Oh well, they both had a great time, no matter what they were wearing!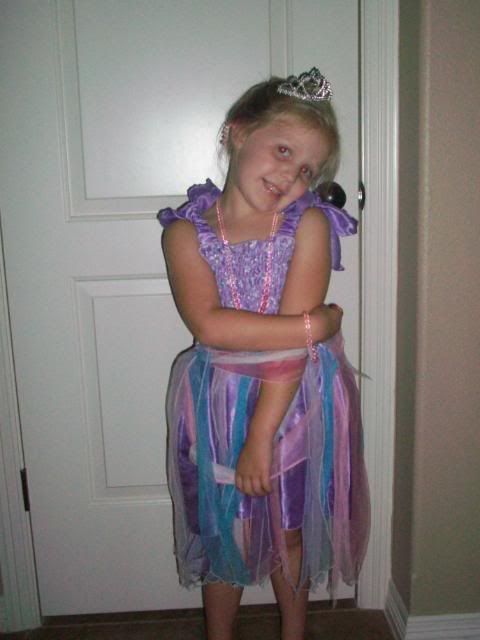 Bethany and I made this centerpiece out of toilet paper rolls!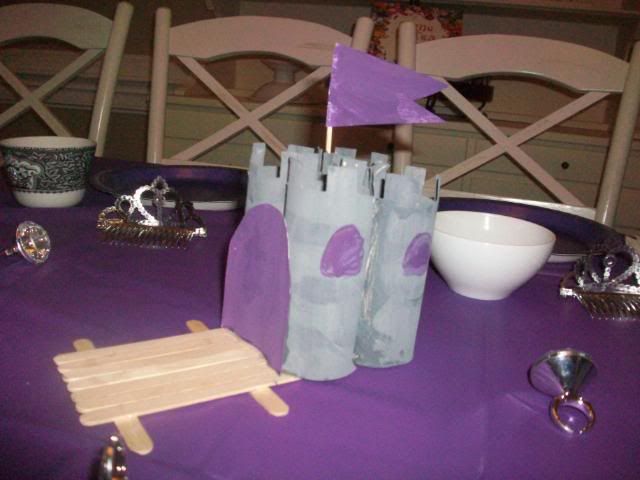 My sweet friend Mandy made these adorable fruit flowers.
Strawberry Lemonade Iced Tea (yummy!!!),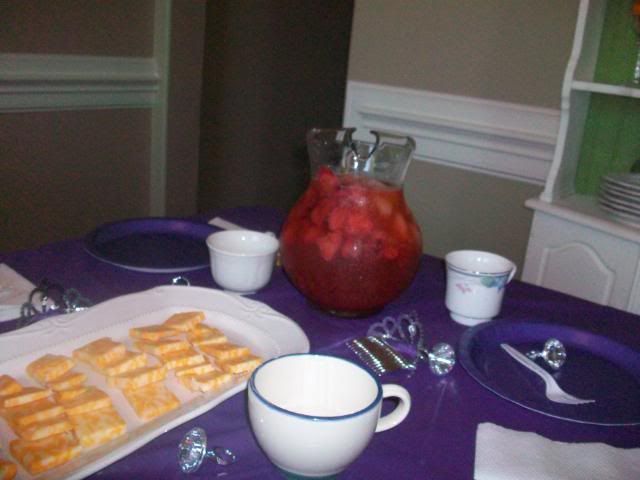 Chocolate Truffles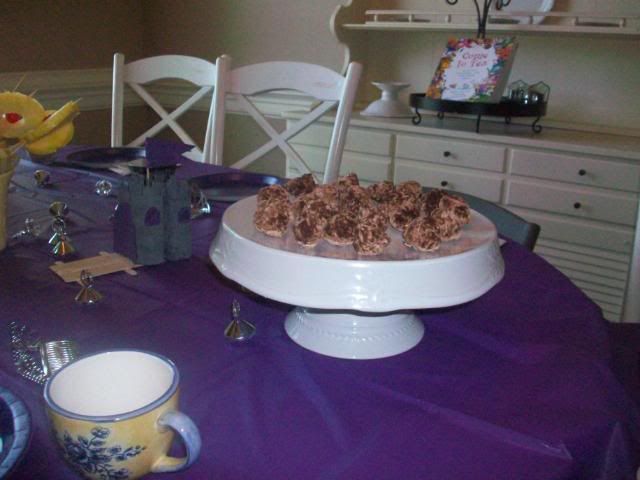 Only one of the boys we invited got to come. Be he was dressed up as a knight in shining armor - how cool is that???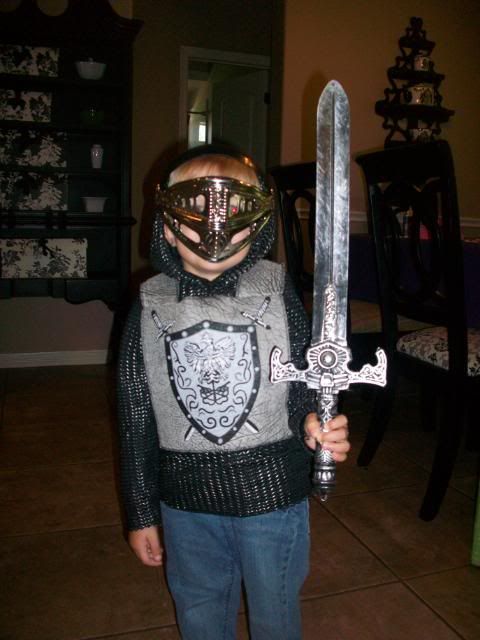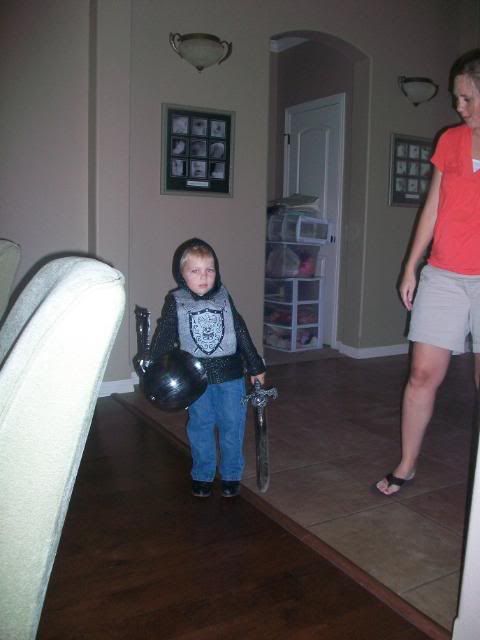 The royal guests got to decorate tiaras (girls) and visors (boys) when they arrived.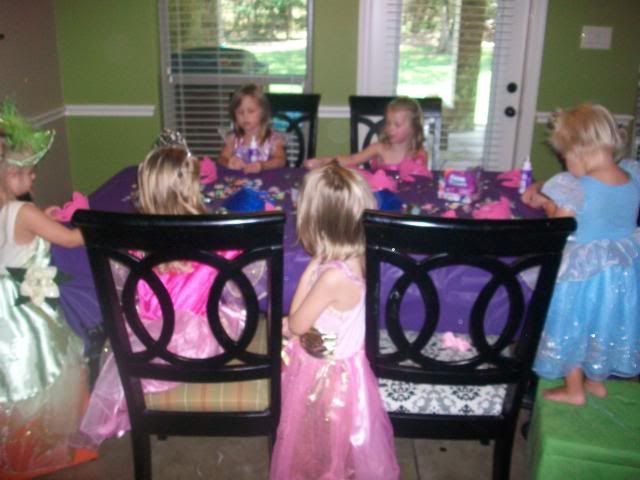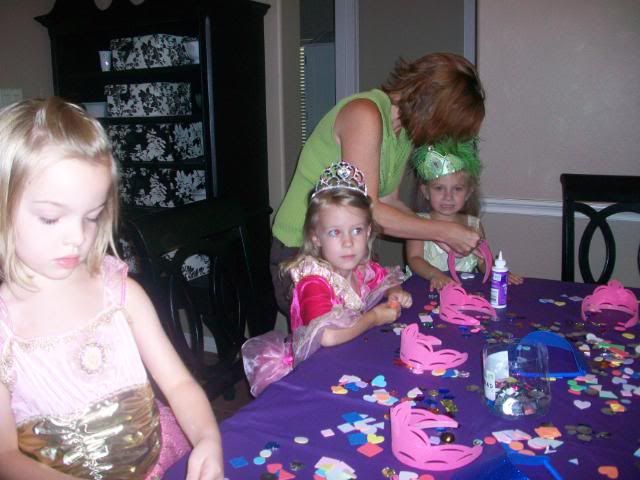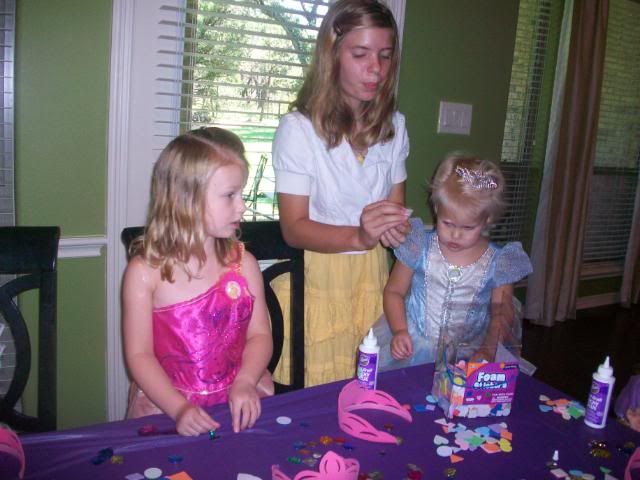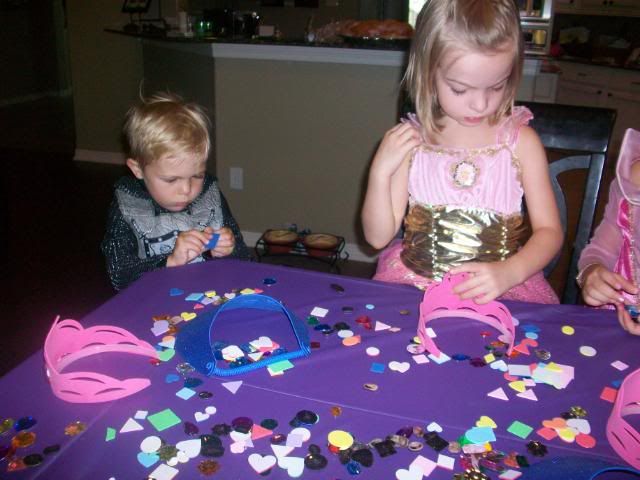 When everyone was finished, we headed to the dining room for the Tea Party!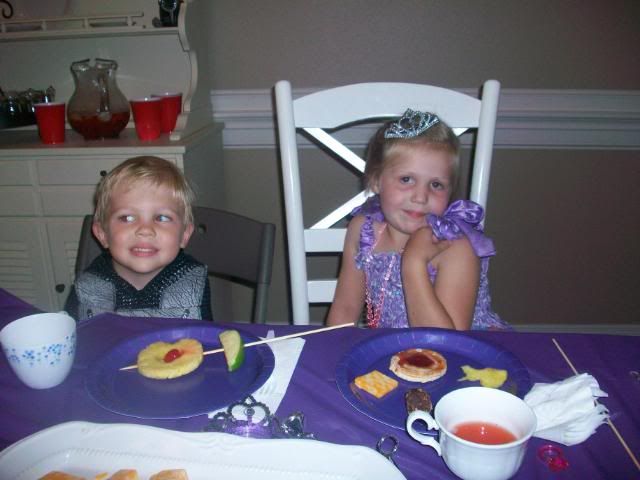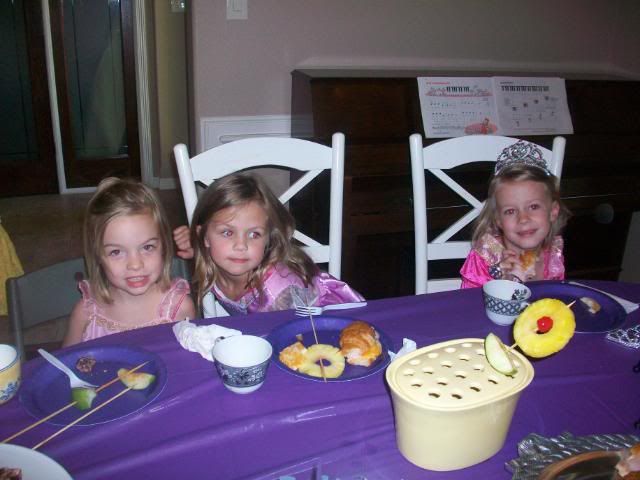 We practiced good manners and everyone stayed in their seat until the last person was finished eating. That was not easy for them, but they did it!
After they were all excused from the table, we went into the living room to play a game. Everyone put their shoes in a pile in the middle of the room. They formed a circle around the shoes and one by one, each child was blindfolded and had to find their shoes in the pile.
I had no idea what a big hit this game would be.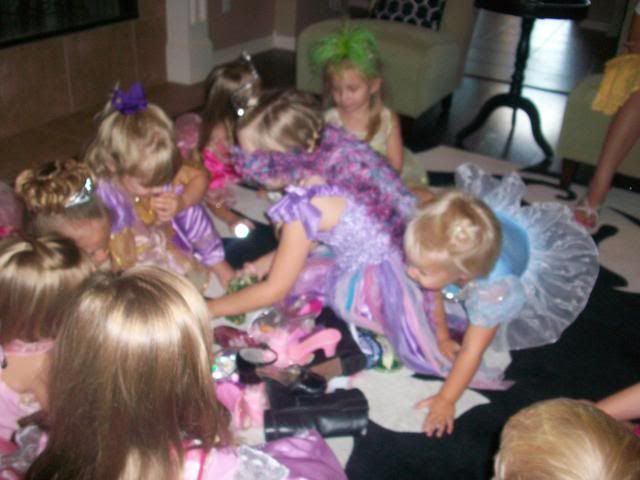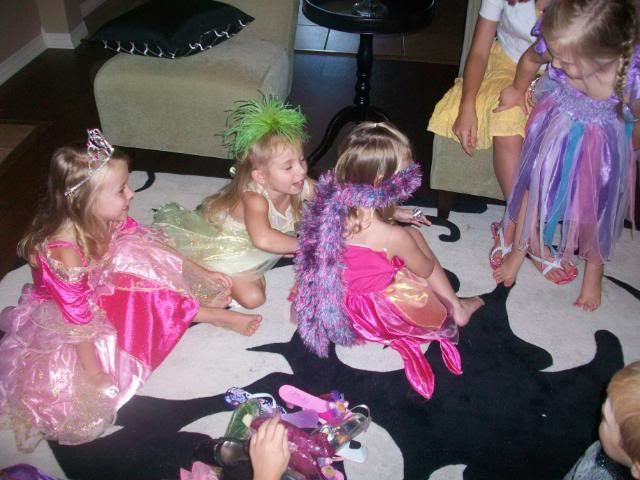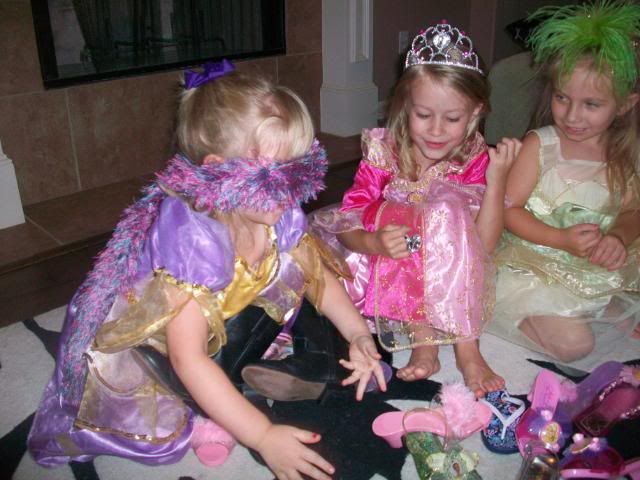 They got a wee bit crazy...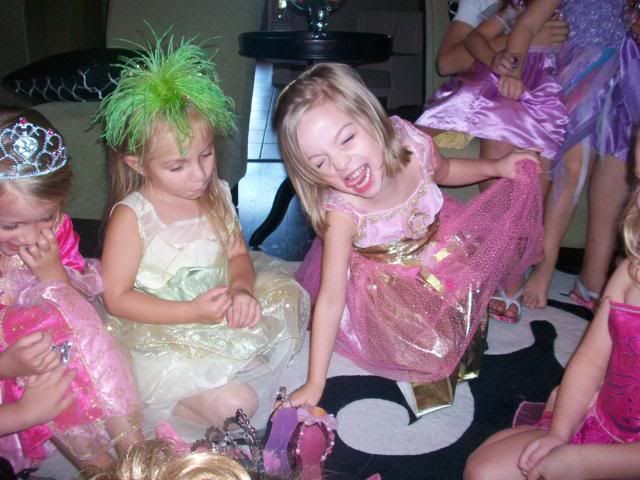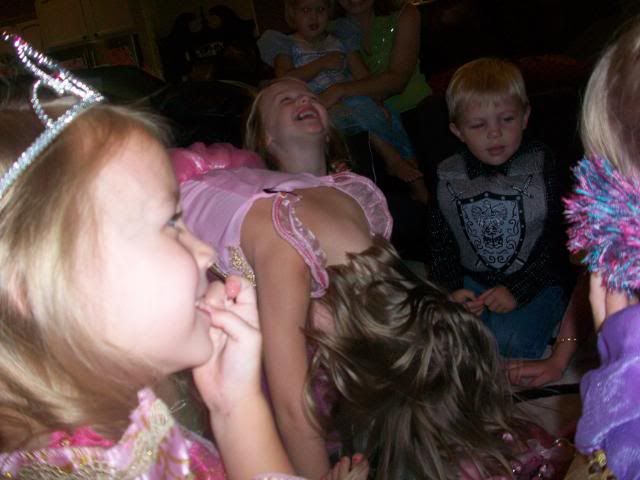 Of course, I should have gotten a group picture at the very beginning when all crowns, shoes, etc. were in place, but I didn't. I did manage to snap one before their moms picked them up, though.
Thanks to all of the sweet friends who joined us for the party. You are truly princes and princesses in the Kingdom of God!