What a relief! Thanksgiving came and went this year and nobody in our immediate family got the dreaded stomach virus. Now I know that I'm probably jinxing us to get it NOW! I realize that it's inevitable. It's going around and my kids, husband and I will most likely get it. I'm just glad it didn't happen over Thanksgiving.
Last year. we (my parents, sister, Raymond, Bethany and I) all flew to Tennessee to visit my paternal grandparents - Granny and Grandy Cook. The Monday before we were to fly out on Tuesday, Bethany got a nasty stomach bug. On Tuesday she seemed better, so we went ahead and flew to Tennessee. It was pretty obvious during the flight that either, a.) she wasn't better or b.) she gets airsick. She managed not to puke during the flight, but looked pretty green. She lost it all, though, as we were waiting to be picked up from the airport. We kept thinking she was better and then the next morning she puked again. Then, on Thanksgiving night, my cousin got the same thing. Friday morning - the day we were to fly back home - Raymond got it bad. Can you imagine making your way through an airport and flying with a miserable stomach virus? Not to mention ME! I was pregnant, dealing with a 2 year old, her carseat and ALL of our luggage because poor Raymond was miserable. We made it home without much more incident thank goodness. Of course, I got the virus after we were back home and Raymond was back at work. That's how it goes for moms I guess!
Even with all the sickness, we had a wonderful time visiting with my grandparents. I'm so glad that Bethany got to visit their home and spend a few days with them. It was really a special time.
So... that's why I was so paranoid that we'd get sick again this year. Thankfully, we didn't. We had a nice Thanksgiving with Raymond's mom, brother, sister-in-law, her mom, nephew and niece. It was really great catching up with them and getting to watch all of the cousins play! This year we had lunch at Furr's Fresh Buffet. It was easy on all of us, the food was good and the best part??? No dishes to clean!!!
Of course, it wouldn't be a proper post from me without a TON of photos. So here you go!
B and L modeling the outfits that I made for them.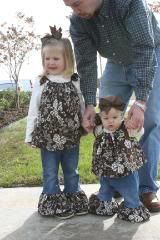 Sweet cousins - Bethany and Lexi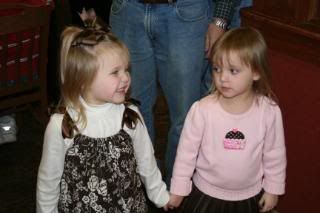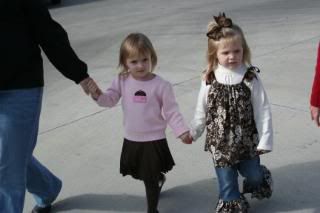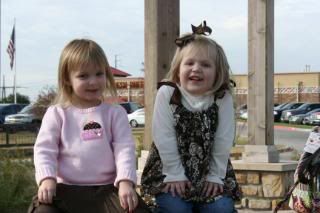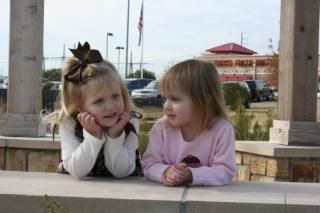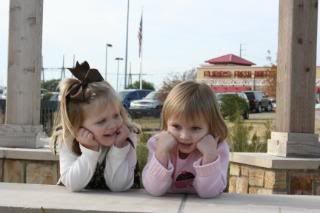 All of the grandchildren - Bethany, Lexi, Chase and Landry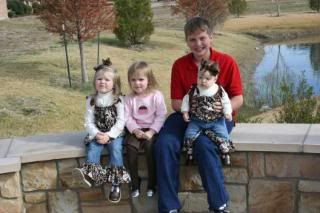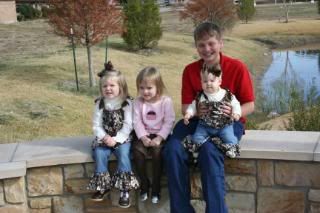 All the grandkids with their Gram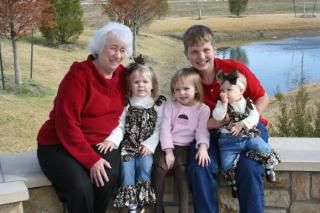 By the way, we are SO excited! We will be having a new little nephew tomorrow! Chase and Lexi's mom is being induced tomorrow to have a little boy. We can't wait to meet him! I guess we'll have to do the grandchildren picture again soon to add him!
Well, if you made it this far, thanks for looking and indulging me. Hope you all had a wonderful Thanksgiving.