I can't believe it was three years ago today that we met you for the first time. This is what you looked like.
Of course, later on you got all bundled up and looked oh so sweet.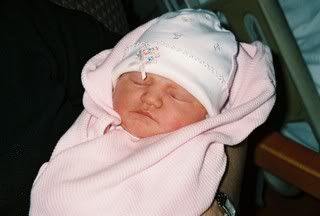 That first year with you was a challenge! Of course we loved you very much, but you DID scream a lot! You were very "healthy" (ahem, fat) and couldn't really get around much there for awhile. Finally, at around 5 months old you rolled over and at 8 1/2 months you crawled. Just 2 months later you were walking! By the time you were one, you were saying and signing lots of words, you loved your milk and pretty much any food, and you were always a good sport about wearing huge bows on your head! You sure were a cute little one year old!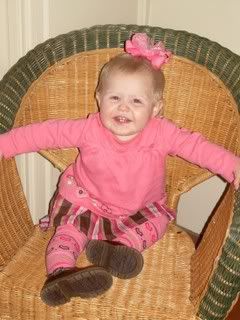 Your second year was wonderful and still challenging. You were talking up a storm - short sentences at 15 months and real conversations before you turned 2! When you were 15 months old you got Rotovirus and scared us all when you had seizures and had to be admitted to the hospital. You recovered well, though, and there was no permanent damage! Your hair finally grew long enough to put into pigtails. I was so excited!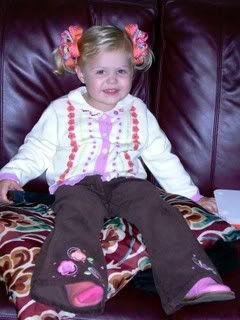 Your third year you showed all of us how incredibly smart you are! You started spelling, counted to 70, and remembered virtually everything you ever heard! While I would say this year epitomized the "terrible two's," I wouldn't trade it for anything. I feel like we really have been able to develop a relationship. It's so nice to have conversations with you and to know what you think and how you feel about things. I love you more than words can ever say and I hope that you can know that someday.
Happy Birthday to my sweet 3 year old girl!