Warning: This post is going to be very photo heavy! Since I got my new camera I've gone a little overboard with the picture taking. Believe it or not, I cut out LOTS of pictures, but still had a hard time narrowing them down. So look if you wish - really, this is for me to have a "scrapbook" of sorts.
Last weekend we headed out to Glenrose for the annual Duggan Family Reunion. Actually, Raymond went on Friday night and I went Saturday morning with the girls. It's just so much easier to sleep at home with a 2 year old and a 5 month old! We got there in the morning and lots of family was already there to greet us. Our niece, Lexi, was waiting for Bethany to play with her! She's 6 months older than Bethany, so she's 3 now. Every time they spend time together they seem to enjoy each other more. I guess that comes with age. Whatever the reason, it was so great to see them really playing and listen to their very interesting conversations! Here are just a few pics of the girls that we took as soon as we got there. They sure didn't waste any time, did they?
The shadow of this tree made for some poor photos. Guess I'll have to actually learn how to adjust settings on my camera and stuff. Sara???
Melissa
???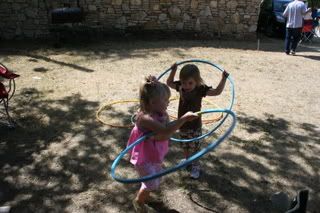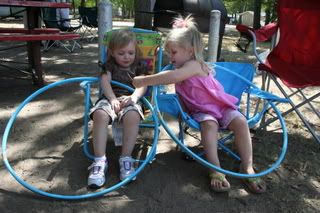 Here are a couple attempts at a pic of both girls. Didn't really succeed. I'm reminded of my friend
Debbie
, who has girls similar ages as mine. She said she's looking forward to her girls being 2 and 4 just so she can get a decent picture of them together!!! I completely agree!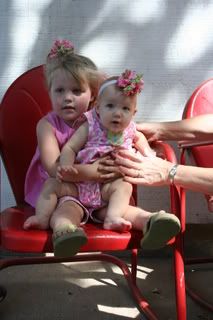 Oops - Landry looks a little scared! Don't worry, she didn't fall - there were people ready to catch a falling baby on either side of the chair!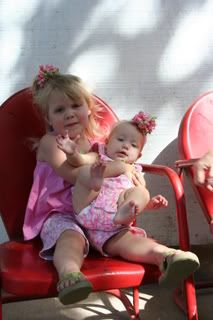 Our beautiful baby girl! Too bad it was so dark in the shade - she was making a really sweet face.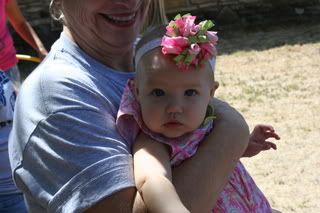 Our beautiful big girl!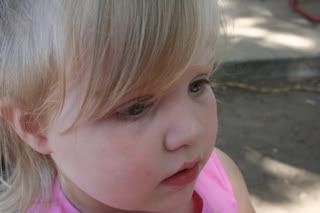 Our beautiful niece, Lexi.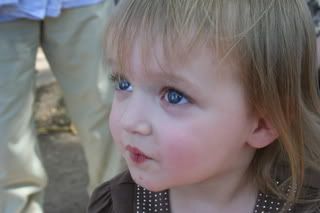 Our handsome nephew, Chase (Lexi's older brother).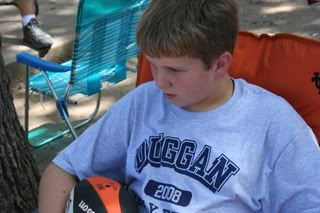 The three girls together.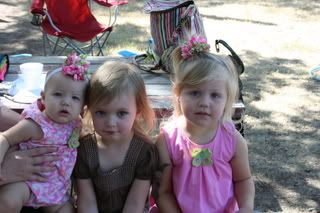 Daddy and Bethany having loads of fun!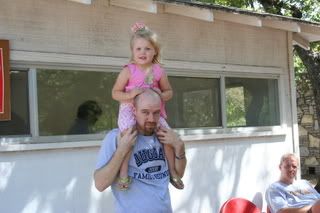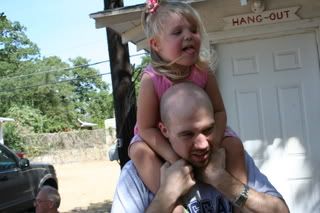 Gram was so good and brought lots of fun things for the kiddos to do. I think the favorite, though, was the bubbles! Here are Bethany, Lexi and their 2nd or 3rd or twice removed cousin (not really sure what she is - she's Raymond's cousin's granddaughter) Payton blowing bubbles.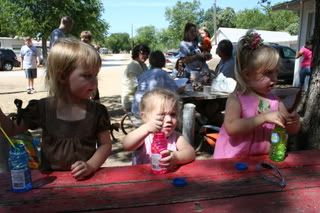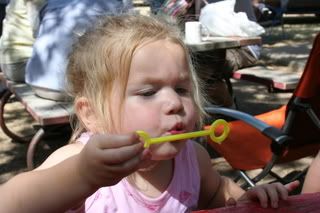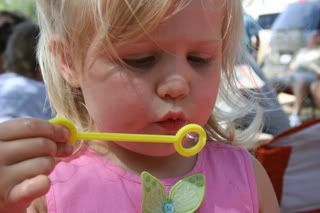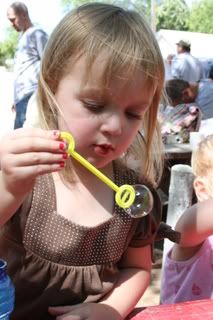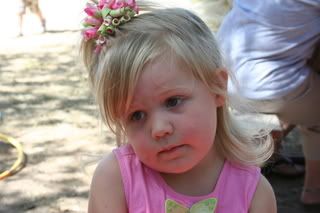 After LOTS of playing in the hot sun and the dirt (which, by the way, was Bethany's favorite thing to do the whole time we were there), we took the kids to the pool to cool off a little. I have pics from the pool, but haven't uploaded them yet, so you are spared!
After swimming Landry was wiped out. Poor thing!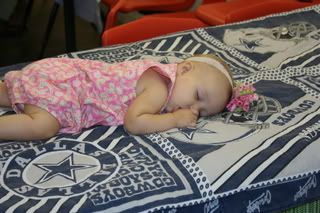 She woke up happy, though, and was happy to see her Gram!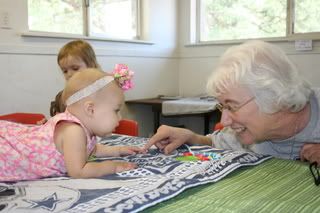 Drooly Droolerson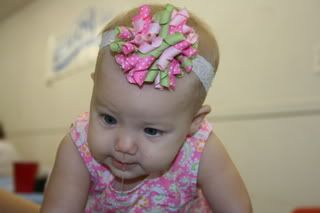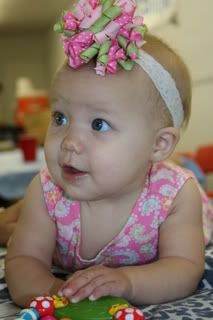 Before dinner the kids were entertained by one of Bethany's puzzles. Chase was a good sport to play with the girls.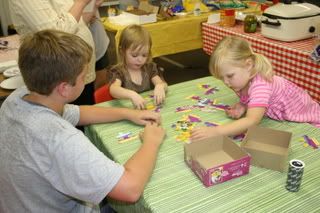 I guess Bethany thought the puzzle was getting a little too far away from her!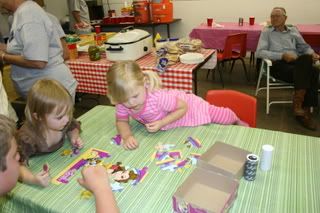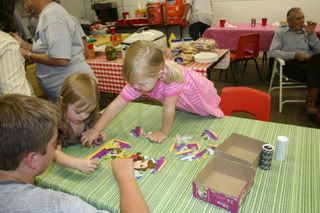 I realized I hadn't been in any pictures, so I asked Chase to take a pic of Bethany and me. It says a lot about Chase that I let him use my brand new camera!!!! Anyway, here we are - do you think we look alike???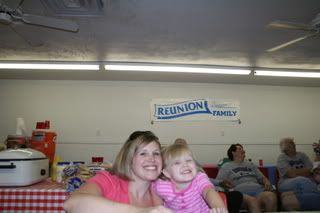 Gram and Bethany enjoying a moment together.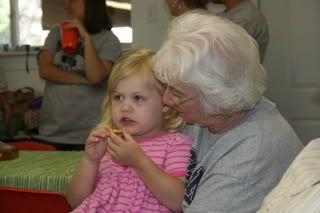 These are my favorite pictures I took at the reunion. I was sitting relatively far away from the girls and just zoomed in on them. They were doing everything they did on their own, without prodding from me! I just thought they were being so sweet and wanted to capture it on camera. At one point Bethany said, "We're sitting in the same chair because we're best friends!" Makes my heart melt a little.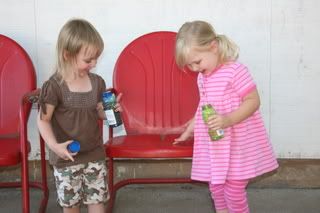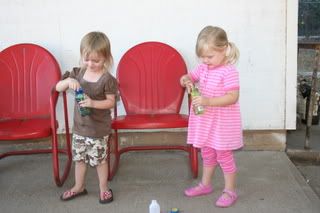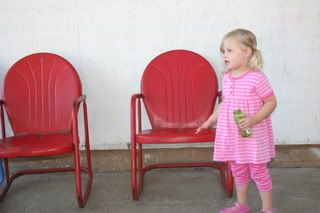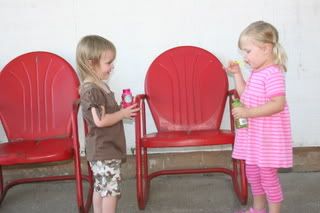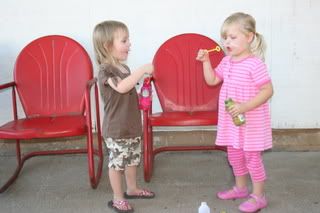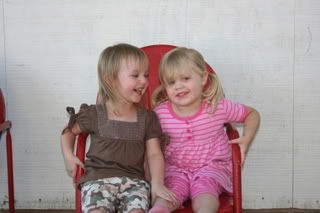 Thanks for looking if you made it this far!!!