A!!! You guys were all right! I can definitely tell them apart, but wondered if everyone else could, too. They definitely look related, though, don't you think?
And in other news, I got my new camera. Woohoo!!!!!!! I'm so excited. I love it!!!!!!!! I got a Canon Rebel XT and it has been so great even though I've only been using the automatic settings. All I know how use so far is the "point and click" feature. With time I'll figure out all the cool things about it. For now, I'm just enjoying a camera that a) turns on all the time, and b) takes a picture IMMEDIATELY - not 10 seconds after the moment I was trying to capture! Here are some of my first shots with the new camera!
Landry waking up Aunt Sara on her 28th birthday! (Yes, the birthday girl slept on the couch. It was her choice - it was far away from the baby's room. Ha ha!)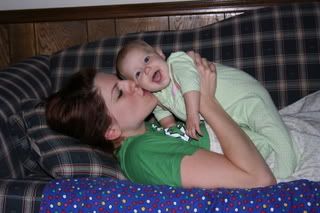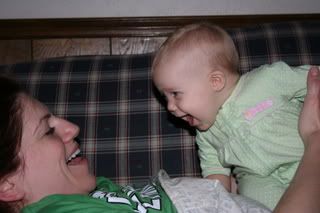 Landry sitting in Mommy's lap while Bethany and Pappy swim. I was taking these pics one-handed since I had to hold the baby, too!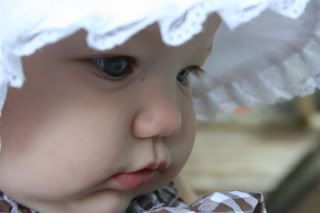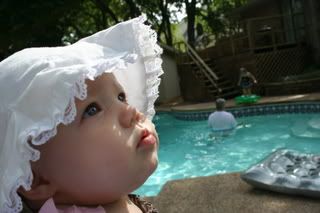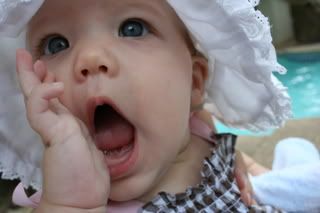 The girls playing with each other. So sweet!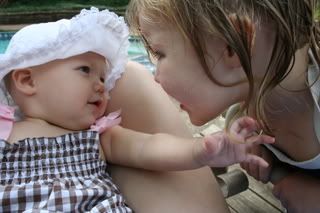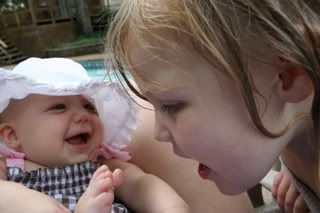 Bethany and I went with Pappy to Dairy Queen for an ice cream cone. Well, initially we went to get a sno-cone, but the sno-cone stand didn't open until much later. Some MAJOR tears later, we ended up at Dairy Queen for ice cream instead. Here they are patiently waiting and contemplating the meaning of life.
Bethany giving Pappy a little hug.
And the much anticipated ice cream cone. She looks like she's really concentrating!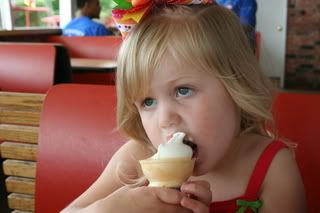 And here's Landry's latest feat! By the way, baby girl turned 5 months old on Wednesday. Sniff, sniff.