Earlier this week the girls and I took a trip up to Dallas to visit my grandpa in the hospital. He is 87 years old and had to have unexpected surgery, so we thought we'd go see him. He did really well and is now at home recovering. The hospital where he had his surgery just happened to be the same hospital where my sister, Sara, and I were born. There is a fun little play area for kids in the lobby, so of course, Bethany had to spend a little time there and I shot some pictures of her playing on all the animals. My dad said that when my sister was born (I was 2 years, 4 months old) I played on those VERY same animals! He said he thought they had some pictures of it, too. So when we got back to my parents' house that night I dug out the old photo albums and scanned some pics. Here's what we got:
Me in 1980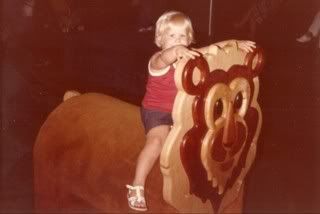 Bethany this week - 28 years later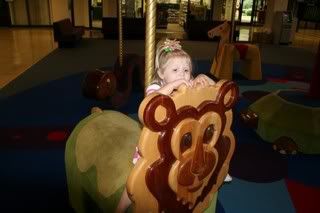 Me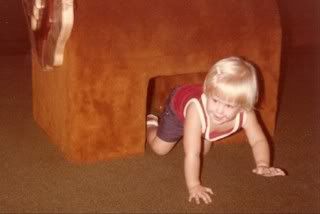 Bethany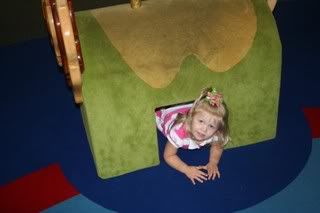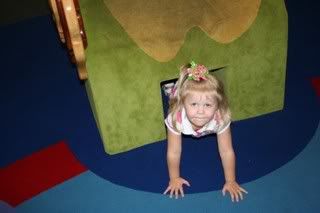 Me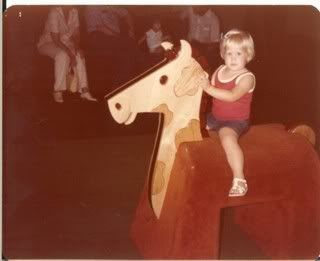 Bethany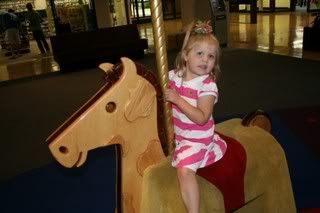 Crazy, huh?
Well, onto the other child. It's been a big week for Baby Landry! On Wednesday she cut her first tooth - her bottom right incisor (I think that's what it's called!). I really think she's working on the one next to it, too. She gnaws on anything, including her own hands, all day long. Yesterday at a baby shower she was gnawing on my friend's wooden chair. Probably not too safe. Her favorite thing of all to chew on, though, is my keys. Really not safe. I'm going to look for those fake keys that look real at Target tomorrow!
And tonight she "officially" started crawling. My life is about to change drastically. We went to a neighborhood pool with some friends this evening and had a great time. I wore Landry in my new
Porpoise Pouch
for the first time and she LOVED it! So I got her out, dried her off, put her in some dry clothes and laid her on a beach towel on the concrete while I got ready to leave. I went to throw some trash away and as I was walking back I saw her off of the towel crawling on the concrete over to the grass. When she reached the grass she took a big handful, pulled it out and put it up to her mouth. Luckily one of our friends was right there and rescued her from eating grass! Of course I was having a cow because she was crawling and he said, "You've never seen her do that before?" Nope. She's never done it before! So for the next 15 minutes we were there she was crawling all over the concrete getting into everyone's bags. Great. Just what I need. A 2 year old AND a 5 month old to chase around! Really, I'm proud of the little girl, but I'm just not ready for this!!! I had my camera out in the car, but forgot until later or I would have taken pics of the first crawl. When I remembered that I had it, I did pull it out to take some shots of Landry and Kelsey - her buddy who is one month younger than her. Of course, my memory card was full when they were both smiling and they both got unhappy while I was deleting photos, so here's what we got.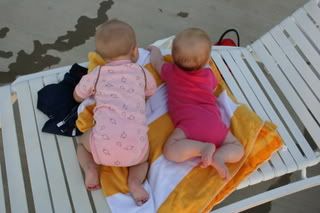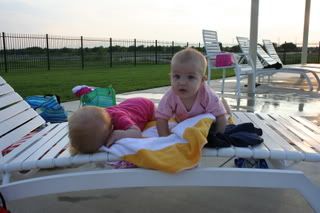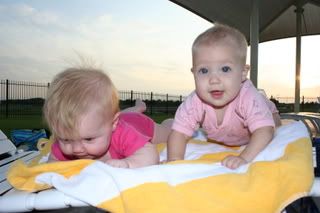 Unfortunately, I guess I moved when I took these because the sun is behind Landry's head and made the pics really dark. Oh well, I'm still learning!