Nothing major has happened recently, but I feel like I should post an update! Landry is driving me a little nuts with her erratic sleeping habits. She'd been sleeping really well at night and all of a sudden she's started waking up every 2 or 3 hours at night. AND she's not napping well. All of this would be really difficult to deal with if she weren't so darn happy all the time! I guess the kid just really doesn't need much sleep! Actually, last night and today have been a little better. Maybe it was just a growth spurt. Isn't that the answer to anything at this age? Speaking of age - she will be 3 months old tomorrow. I can't believe it! How did it go by so fast? She's such a joy and we are so blessed to have her in our lives.
Bethany spent a wonderful week with her grandparents last week. My mom told me when I had Landry that she wanted to take Bethany for a week to give me a break and to just let her know when a good time would be. Well, I decided last week would be perfect because she didn't have Mother's Day Out at all. They had a lot of fun and Bethany got some much needed attention! I had a great time, too. It's amazing how easy just ONE baby is! Anyway, Bethany has been saying lots of really funny things lately. Yesterday we were at the post office and the clerk asked her how old she was. She replied "Free monfs." I think she got Landry and herself confused! She says really funny things all the time and I always forget to write them down. I'll try to start posting them here so all my friends and family can get a laugh and I'll have a record of them!
So it wouldn't be a proper post without some pics. Here are some from this past Sunday. Bethany is at a really awkward photo stage. I just can't seem to get a decent picture of her for the life of me! Landry however, is getting quite photogenic! Oh, and for the record, I do realize that there is a plant growing out of my baby's head. ;)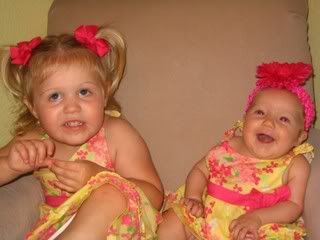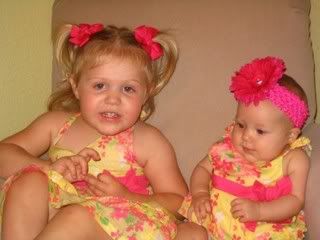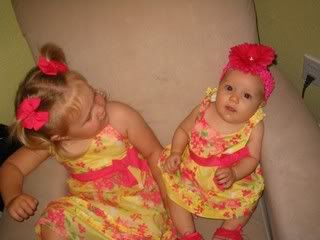 This picture is why we don't tell Bethany to say "cheese" anymore. This is the result: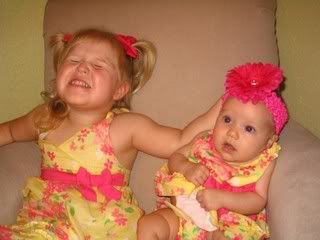 At this point Bethany had said "I'm finished," and hopped out of the chair, so we did some of the baby by herself. Isn't she sweet?