Happy Half Birthday baby girl! Sorry it's a little late! Landry Gayle turned 6 months old on Saturday, September 6th. We did a 6 month photo shoot on Monday with Aunt Sara. Here's one of my faves!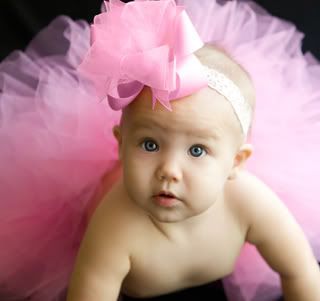 I thought for her 6 month birthday I would list 6 things that either she's doing at this point or that I love about her.
1. Crawls around the house and gets into EVERYTHING she shouldn't!!!
Who me?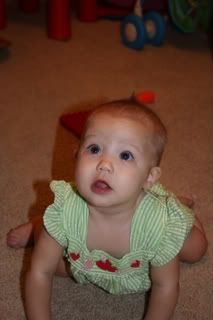 2. Pulls up on everything - including her crib. This has caused some sleeping issues because she can't quite figure out how to get down.
(This is her crib at Grandma's house)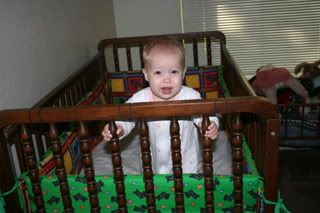 3. Has 2 precious little teeth!
(Don't mind the bananas/applesauce on her face!!!)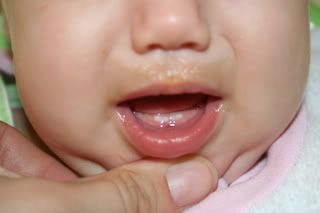 4. Her favorite forms of entertainment - Bethany and Abby (our dog). She is an angel in the car because she just stares at Bethany and is totally mesmerized by her. Occasionally we get a laugh, but most of the time she just stares at her in amazement. Whenever she sees Abby she makes this excited shriek - it's so cute!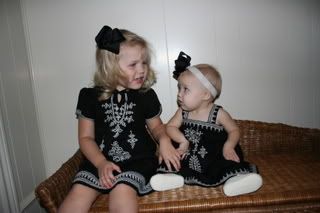 5. She is eating solid foods now. Well, maybe I should say "food" - singular. Just about the only thing she'll eat is bananas. But she sure does love them!!! I can mix prunes or applesauce in with the bananas and she'll eat them that way. But most everything else it not greeted so well. Oh well, we'll just keep trying!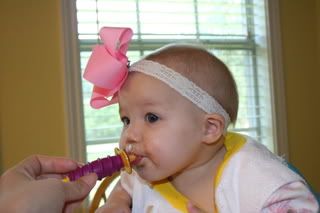 6. I love that she sucks her thumb! I know, I know - it'll be a hard habit to break. But it's just so cute! And it's so nice that she has a way to soothe herself. She usually only sucks it when she's sleepy, but every now and then she does it "just for fun."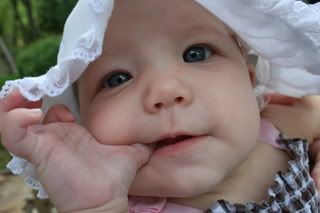 Happy 6 months baby girl! We hope they've been as good for you as they have been for us. We love you so much!