So tonight Bethany did something that she knows she's not supposed to do. I found evidence of it and asked her if she did it. She said no. Well, she did, infact, do it. So, she got a spank (sorry to all of my followers who are anti-spanking!) and got sent to timeout. When she was finished with her timeout I asked her to come to me so we could talk. Of course I'm planning on laying into her about lying, what she did wrong, etc. Well, before I can even start, she comes to me and says, "Mommy, did you know that I love you?" Where do they learn to say these things at just the right time????????? Ugh! Melts my heart.
On another note, I've had some requests for photos of my loot from the
Just Between Friends
consignment sales that I participated in. So here ya go!
My idea for either birthday or Christmas this year (for Bethany) is to fill a Rubbermaid tub with dress-up clothes. I got all of these for that!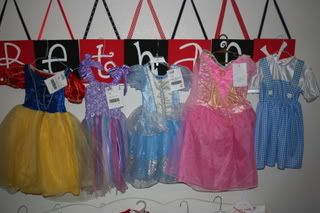 Here's the $5 Halloween costume. B is going to be Dorothy and L is going to be the Cowardly Lion (from The Wizard of Oz).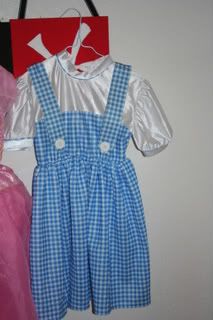 There were so many clothes to shop from it was just unbelieveable! I tried to limit myself to comfortable play-type clothes unless there was something nice that was a super good deal. Here's what I got for Landry.
For Bethany - knit dresses and leggings. Almost all were either Gymboree, L.L. Bean or Land's End.
And more for Bethany - knit tops and leggings.
And a couple "jogging" suits - bad picture, sorry - I was standing RIGHT in my own light - duh.
2 matching outfits -
Plus the stroller I posted about earlier, puzzles, games, more shoes, dvd's, etc.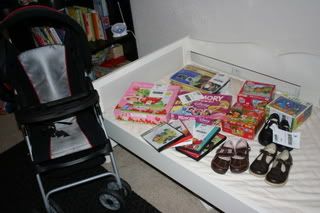 There were a few more things I found after I took the pics that didn't make it in the photo shoot, but you get the point.
So I know what you are thinking. How much did she SPEND on all this stuff??? Well, I'll tell you. Nothing. Nada. Zilch. For real. I consigned all of the girls' old clothes and some baby equipment that we won't need anymore. I made roughly $800-900 on everything that I sold(that's including the $$ I made from a few of my friends buying my stuff before I took it to the sale). I spent about $350 on everything that I bought. So I ended up making about $500. AND I got rid of stuff that was cluttering my house and got "new" stuff!
It's a great thing I tell ya! You should ALL do it!!!