It's been awhile since I've posted, I know. This may be a long catch-up post! Let me start out by saying that we have still not gotten a new camera. However, I just got the green light to get the Canon Rebel that I have been wanting. Woohoo!!! Until I get it and figure out how to use it, all of my loyal readers will just have to live with the poor quality of my pics - sorry. We should get the new one soon. In fact, I will probably order it after I finish this post!
Last Saturday we had a fun day! My grandparents, who live in Tennessee, came to visit us. They were actually staying with my parents in the Dallas area, but they all made the trip to see us for the day. We had a lovely time chatting, eating lunch, and of course, playing with the kiddos! Here are some pics of Granny, Grandy, Bethany and Landry. (By the way, you can see Bethany's new haircut in these pics!!!)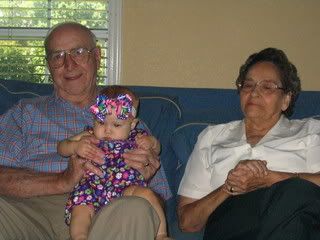 I just love how Landry is looking at Bethany in this pic. Bethany is definitely Landry's favorite entertainment!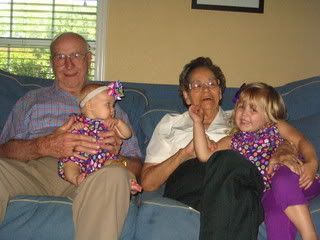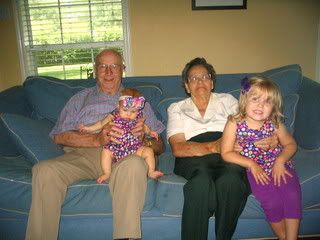 I thought this was a sweet pic my mom took of Landry's hand and Granny's hand.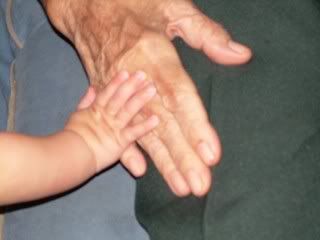 On another note, the girls have been busy, busy, busy to say the least! Bethany has been riding her tricycle the "right" way for awhile now, but I've never caught it on camera. I just think she's so cute when she's riding it! Of course, our driveway isn't the best place to ride a trike - it's a pretty steep incline and she always wipes out in the grass. I have to stand at the bottom and make sure she doesn't roll out into the street!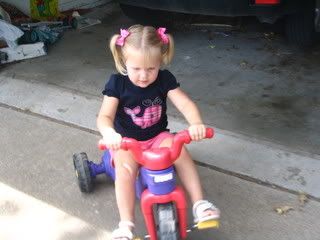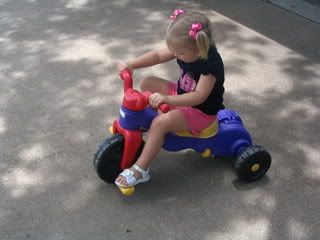 Landry is getting much more mobile lately. I'm SOOOOO not ready for this! She's 4 months old for crying out loud! The house isn't even close to babyproof anymore. Bethany didn't crawl until about 8 months, so this is really catching me off guard! She's not really crawling, don't get me wrong. She IS very mobile, though. She'll scoot all around the living room (everywhere EXCEPT her playmat) on her belly, pushing herself with her feet/knees/hands. I think she'll be crawling for real before too long. She was actually up on all fours yesterday. Yikes!!! Here are some pics I caught of her making her way around her playmat. Please ignore the fact that she looks green. Remember, I'm getting a new camera tonight!