Today was Landry's 4 month birthday (I can hardly believe it!!!) and my dad's 58th birthday. My family came here to celebrate with us. They were so sweet to travel on a holiday Sunday just so I wouldn't have to make the trip by myself with both girls. That's not really too fun! Anyway, Bethany and I made Pappy a Butterfinger cake yesterday and we had it today. It was so yummy! I'll post the recipe when I have a bit more time.
I was so thankful to have the family join us at church this morning. Since Raymond had to work, I was at church with both girls by myself, which is pretty challenging to say the least. They were a great help to me! We had lunch a Chili's (my dad's favorite) and then came home for birthday cake and ice cream.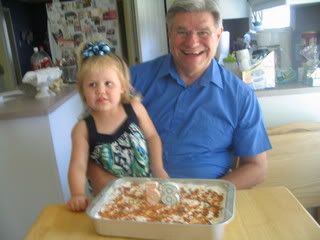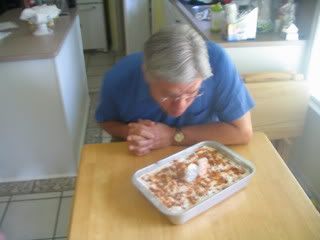 After naps (Pappy, Raymond, Bethany and Landry all got to nap) we played outside with Bethany in her pool and had a great time watching all of her tricks. Landry even "sunbathed" a little! Don't worry - she was in the shade!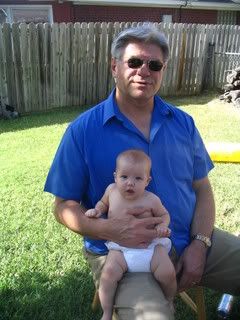 After a healthy dinner of pizza, and yes, some more birthday cake, the family headed home. I hope they made it - I know they were in some pretty heavy holiday traffic. Sorry! We are really glad that you all came and we had a great time!!!
Pappy with his girls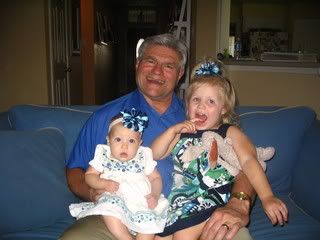 Aunt Sara with Landry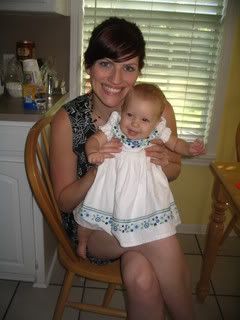 Just a few photos to commemorate what Landry is doing at 4 months. These were actually taken a couple weeks ago, but close enough, right?
Trying to sit herself up! She's pretty good at the "tripod" sit, but eventually ends up folded in half!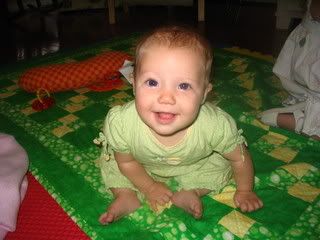 Holds toys for short periods of time and tries to chew on them. That is, until she drops them.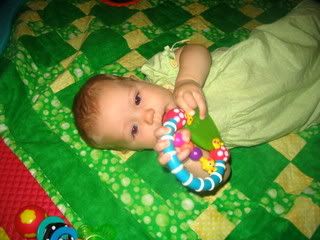 This is how she spends most of her time. Pretty much every time I put her down on her back she immediately flips to her tummy and stays there. She's pretty darn happy there, too!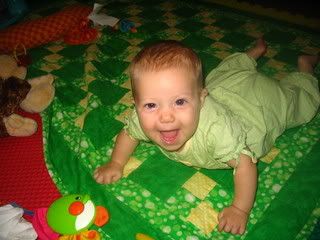 Thanks for being such a joy in our lives Landry Gayle - we love you!!!